BOOK 1: Blood of the Falcon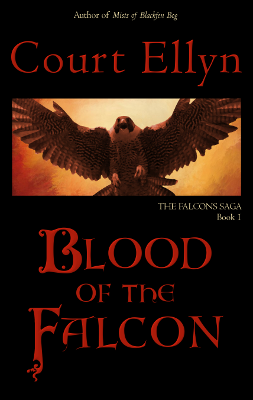 The kingdoms of the Northwest were once unified under a single crown, but treachery split ancient Westervael in twain. Now, in a land long-divided by war, two kings chase different dreams for their people. The Black Falcon seeks compromise, independence, and loyalty to tradition. The White Falcon longs for reunification of the Brother Realms, no matter the cost.
An attack by assassins shatters a fragile peace, and caught up in the maelstrom are twin brothers:
Kieryn: awkward, absentminded, bookish. When voices in his head begin to whisper of murder, Kieryn fears he's going mad. He soon discovers, however, that he is a vessel for powers that have lain dormant in his family for generations. While his family marches to war, Kieryn must turn his back on those he loves and muster the courage to enter a forbidden world. Crossing beyond the Veil, he encounters the Elarion, the Goddess's proud, enigmatic First Children. Among them, Kieryn is a spark that awakens ancient memory and smoldering hatred. Yet only the Elarion can help him uncover his family's past and his hidden gift, though his efforts may cost him his sanity and his soul.
Kelyn: a charming knight-in-training and his father's ideal. Yearning to follow in his father's footsteps, Kelyn is put to the test when war breaks between the Brother Realms. He soon finds himself an invader on foreign soil, where his preternatural foresight in battle earns him the king's favor and a reputation as the Swiftblade. But a knight's vows are easier spoken than kept. As the armies of the Falcon Kings meet blade to blade, lines blur between courage and madness, honor and self-delusion. In this war-torn realm where bard song seals a man's reputation for all time, Kelyn must choose between personal glory and the lives of his countrymen. Can he become the knight his father hopes he can be, or will his actions threaten his family's honor and the lives of thousands?
FIND IT AT AMAZON
~ ~ ~
BOOK 2: Sword of the Falcon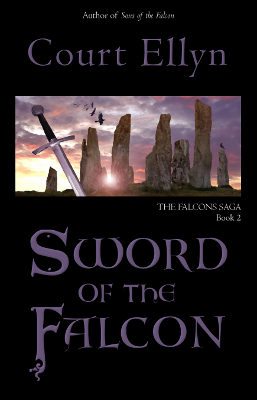 The war between the Brother Realms reaches its bloody climax as the Falcon kings race to secure allies and vie for dominance of the Northwest.
As the Black Falcon's army pushes deeper into Fieran territory, Kelyn must learn to bear the weight of the War Commander's helm. Victory—and the lives of thousands—depend on his word alone. While he presses against the relentless tide of his enemies, he harbors a dark secret, one that may spell of the destruction of his family. Wounds of the flesh matter little when a man must battle his conscience and his own desires to reclaim his honor.
Deep within Avidan Wood, Lothiar remembers a time when his people roamed free. Chafing inside the prison that his people call a refuge, he dreams of a new era, in which the Mother's First Children rise again to dominate the breadth of Dwinovia. In his loathing for the Sons of Ilswythe, he unleashes an ancient terror. But tampering with the forces of the Abyss brings about disastrous consequences he does not foresee.
Meanwhile, Kieryn is torn between the woman he loves and his pursuit of the forces seething inside him. The secrets he is sworn to protect drive a wedge between him and his betrothed, and Rhoslyn turns to another. Shattered by betrayal and pursued by a soul-thirsty shadow, Kieryn must harness the fires of his rage and forge a new identity. One that will earn him a song in legend—or infamy as a madman.
FIND IT AT AMAZON
~ ~ ~
BOOK 3: Sons of the Falcon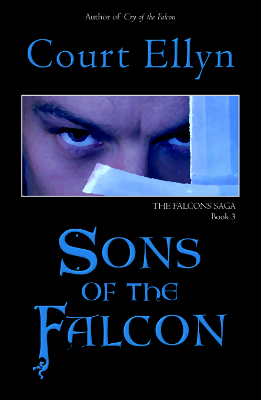 As the kingdoms of the Northwest recover from a devastating war, Kelyn of Ilswythe is trying to put his life back in order. Adjusting to peacetime and life at home with a new wife and son is difficult enough, but he soon learns that all is not as idyllic as it appears. He receives troubling news of children disappearing, of dwarves locked in frenzied war against an unnamed foe, of travelers slaughtered by unseen monsters. To Kelyn, these disturbing events appear unrelated, but evidence soon proves that sinister magic is at work.
His twin brother, the avedra Thorn Kingshield, begins to unravel these tangled threads, and finds that the answer comes straight out his nightmares. Lothiar, the enemy he believes to be dead, works from the shadows, training his vast army and scheming among the courts of men in an effort to save his own kind from a tragic, inglorious demise.
Ghosts from a long-forgotten age are rising for revenge, and the Sons of Ilswythe find that their greatest battle is bearing down on them. A monstrous horde is poised to cleanse the lands of Dwinovia of the taint of humanity and avedra alike. The world of flesh and the world of magic must fight side by side if either are to survive.
FIND IT AT AMAZON
~ ~ ~
BOOK 4: Cry of the Falcon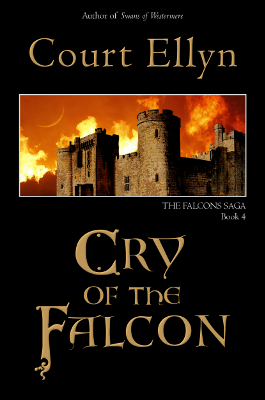 The lands of the Northwest are laid waste, the people scattered. In the wake of devastating betrayal, the Sons of Ilswythe reel to find a foothold. With his home in ruins, Kelyn must learn fast how to fight a foe he does not understand. Refugees from across Aralorr flee Lothiar's atrocities and gather to Kelyn's banner, desperate for a leader willing to make a stand. But is his ragtag army enough to hold back Lothiar's bloodthirsty horde?
In secret, Thorn Kingshield experiments with perilous energies in an attempt to develop a new kind of magic. Success will supply him with a new weapon that may enable him to decimate the ogre hordes. Failure may cost him the very thing that makes him avedra—and unleash the evils of the Abyss.
Meanwhile, Carah struggles with the heartache that comes with being a healer. While she tends to the wounds of the dying, she is torn between the love of a pearl fisher and the hopes of a king. An arduous search for his family leads Laral into the ogre-infested fastnesses of the Drakhan Mountains. And Lothiar is haunted by the whispers of a dragon …
FIND IT AT AMAZON
~ ~ ~
BOOK 5: Fury of the Falcon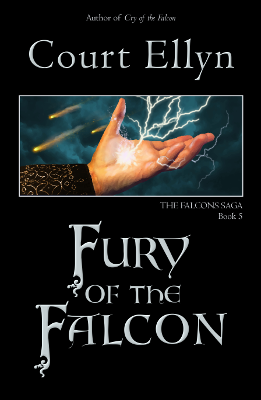 The fifth and final volume of the Falcons Saga brings this sweeping fantasy series to its stunning conclusion.
With Kelyn wounded in an attempt to barter for peace and Thorn recovering from his struggle against forces from the abyss, defeat and despair encroach. The human armies are stretched to their limit, and Lothiar's horde relentlessly presses against their last stronghold.
Amid the carnage, Carah is determined to mend the wounds sundering her family and risks a journey across hundreds of miles of ogre-infested territory. When Lothiar's schemes pay off and Carah finds herself in the dreaded pit, her brother Kethlyn proposes an all-or-nothing campaign deep behind enemy lines to rescue her.
As the War Commander and his desperate army prepare to make this final stand, events race toward a destiny no one expects. Either victory or defeat will usher in a new age…
FIND IT AT AMAZON